Investors
Webcast


Q3 2017 Cabot Earnings Conference Call

 (Live)




08/02/17

 at 2:00 p.m. ET
Cabot Corporation is a leading specialty chemicals and performance materials company.
Cabot delivers performance solutions that solve our customers' challenges today and prepare them to meet tomorrow's needs. Our portfolio of businesses with leading market positions serves key industries such as transportation, infrastructure, environment and consumer.
Cabot is a leading provider of rubber and specialty carbon blacks, activated carbon, inkjet colorants, cesium formate drilling fluids, fumed silica, aerogel, and elastomer composites. We operate 45 manufacturing facilities in 21 countries around the world with strong growth in emerging markets. As a technology and innovation leader, we partner with customers who are leaders in their industries and we advance our businesses together.
---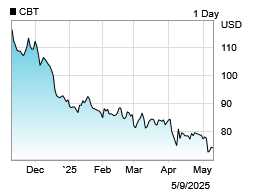 ---
---
Date

Title

 

07/14/17

Cabot Corporation Board Declares Dividend

BOSTON--(BUSINESS WIRE)--Jul. 14, 2017-- On Friday, July 14, 2017, the Board of Directors of Cabot Corporation (NYSE:CBT) declared a quarterly dividend of $0.315 per share on all outstanding shares of the Corporation's common stock. The dividend is payable on September 8, 2017, to stockholders of record at the close of business on August 25, 2017. About Cabot Corporation Cabot Corporation (NYSE: CBT) is a global specialty chemicals and pe... 

07/11/17

Cabot Corporation Shares Sustainability Progress with Release of 2016 Sustainability Report

BOSTON--(BUSINESS WIRE)--Jul. 11, 2017-- Cabot Corporation (NYSE: CBT) announced today the publication of its 2016 Sustainability Report. The report, titled "Making a Difference," focuses on the company's sustainability progress throughout calendar year 2016, and highlights its plans to address topics identified through a comprehensive materiality assessment. "Our sustainability program addresses our environmental, social and ... 

07/07/17

Cabot Corporation to Announce Third Quarter 2017 Operating Results

BOSTON--(BUSINESS WIRE)--Jul. 7, 2017-- Cabot Corporation (NYSE: CBT) announced today that it will release operating results for the third quarter fiscal 2017 on Tuesday, August 1, 2017 after market closes. The Company will host a conference call and live webcast to review the third quarter results beginning at 2:00 pm (ET) on Wednesday, August 2, 2017. The call is being webcast by NASDAQ and may be accessed at Cabot's website at http://in... 

07/03/17

Cabot Norit Activated Carbon to Chair Biogas Purification Panel and Showcase Activated Carbon Solutions at UK AD & Biogas and World Biogas Expo 2017

BIRMINGHAM, United Kingdom--(BUSINESS WIRE)--Jul. 3, 2017-- Cabot Norit Activated Carbon, the world's largest and most experienced producer of activated carbon products, will participate in the UK AD & Biogas and World Biogas Expo 2017 on July 5-6, 2017 in Hall 3, stand F402 in the National Exhibition Center, Birmingham, United Kingdom. William Krents, global market segment manager, Cabot Purification Solutions, will chair a panel e... 

06/07/17

Cabot Corporation Breaks Ground on New Fumed Silica Facility in China

Cabot to increase fumed silica production through investment to meet market demand in China WUHAI, China & BOSTON--(BUSINESS WIRE)--Jun. 7, 2017-- Cabot Corporation (NYSE: CBT) and joint venture partner Inner Mongolia Hengyecheng Silicone Co., Ltd (HYC) broke ground today on their new fumed silica manufacturing facility in Wuhai, China. The project, announced in September 2016, is scheduled to be completed in 2019, and will furt... 

| | |
| --- | --- |
| Date | Title |
| 08/02/17 2:00 p.m. ET | |