Investors
Cabot Corporation is a leading specialty chemicals and performance materials company.
Cabot delivers performance solutions that solve our customers' challenges today and prepare them to meet tomorrow's needs. Our portfolio of businesses with leading market positions serves key industries such as transportation, infrastructure, environment and consumer.
Cabot is a leading provider of rubber and specialty carbon blacks, activated carbon, inkjet colorants, cesium formate drilling fluids, fumed silica, aerogel, and elastomer composites. We operate 45 manufacturing facilities in 21 countries around the world with strong growth in emerging markets. As a technology and innovation leader, we partner with customers who are leaders in their industries and we advance our businesses together.
---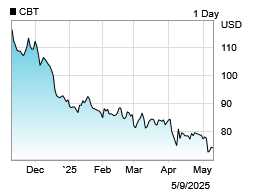 ---
---
Date

Title

 

06/07/17

Cabot Corporation Breaks Ground on New Fumed Silica Facility in China

Cabot to increase fumed silica production through investment to meet market demand in China WUHAI, China & BOSTON--(BUSINESS WIRE)--Jun. 7, 2017-- Cabot Corporation (NYSE: CBT) and joint venture partner Inner Mongolia Hengyecheng Silicone Co., Ltd (HYC) broke ground today on their new fumed silica manufacturing facility in Wuhai, China. The project, announced in September 2016, is scheduled to be completed in 2019, and will furt... 

05/29/17

Cabot Corporation Increases Prices for Specialty Carbons Globally

BOSTON – Effective June 30, 2017, or as contracts allow, Cabot Corporation will increase prices, up to 8 percent globally, for specialty carbon black products. This price increase is required to offset current business conditions, and rising raw material, transportation and operating costs associated with investments in sustainability, supply reliability and environmental compliance at its specialty carbons manufacturing facilities.The increase is necess... 

05/25/17

Cabot Corporation Announces Plans to Build New Fumed Silica Plant in Carrollton, KY

BOSTON--(BUSINESS WIRE)--May 25, 2017-- Cabot Corporation announced today that it has committed to build a new world-class fumed silica plant in Carrollton, Kentucky. The plant will be adjacent to the existing Dow Corning silicone monomer plant in Carrollton and is an extension of Cabot's long-term relationship with Dow Corning. Cabot and Dow Corning have been partners for more than thirty years, with current neighboring operations in Midla... 

05/12/17

Cabot Corporation to Increase Prices in EMEA for Rubber Carbon Black Products

BOSTON – May 12, 2017 - Effective for all shipments made on or after June 12, 2017, or as customer contracts allow, Cabot Corporation is increasing prices on all carbon black products in its Reinforcement Materials segment sold in the Europe, Middle East and Africa (EMEA) region.As the carbon black industry continues to transform, Cabot is experiencing significant cost pressures due to high utilization rates, increased requirements to meet new regulations and sourci... 

05/10/17

Cabot Corporation Board Increases Dividend

BOSTON--(BUSINESS WIRE)--May 10, 2017-- On Wednesday, May 10, 2017, the Board of Directors of Cabot Corporation (NYSE:CBT) announced a quarterly dividend on the Company's common stock of $0.315 per share payable on June 9, 2017 to shareholders of record at the close of business on May 26, 2017. This represents a 5 percent increase from the previous dividend. "We are proud of our long history of returning cash to our shareholders through di... 

There are currently no events scheduled.